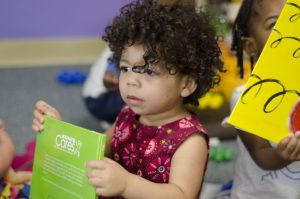 What an exciting time for your little one! Your child will be exploring the world on his own: crawling, climbing, walking, running, pushing, pulling; using every small and large muscle they have and learning all the way. Our teachers will promote a sense of discovery in a fun, constructive program.
The curriculum in our Toddler program is used to develop language skills and vocabulary, and to provide activities of cooperative group time to promote socialization among the children.  We teach basic facts such as colors, shapes and introduces the alphabet and numbers. Monthly themes are used to introduce the children to science, social studies and life skills.
Toddlers will have a consistent program and daily schedule to help promote a child's feeling of security and self-confidence. Life skills of sitting, self-feeding and clean-up will all be introduced and worked on. Each skill will increase and develop throughout the program. This is an exciting time for your toddler as a new world opens for discovery!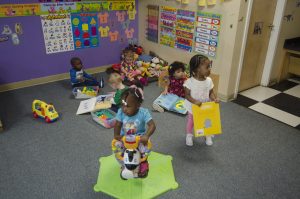 Our Toddler program works to strengthen all aspects of your growing child with a variety of daily activities ranging from:
Hands-on projects, designed to stimulate the toddler mind problem solving challenges and puzzles
A fun, safe play environment for personal discovery and adventure
Daily reports for you on the progress of your child; including updates on naps, toilet training and meals
Close attention to each and every toddler, to maximize personal growth
Building language – Through additional sign language skills, your toddler learns to communicate with caregivers and other children, so her individual needs are more easily met
Stories and songs – Exciting stories along with an array of silly and fun songs, help your toddler's imagination continue to grow while learning those important skills needed for the next developmental level
State-of-the-art facilities help to encourage creativity and imagination
Social interaction – When children enter into the world of toddlerhood, they become aware of the world around them. We believe that healthy and happy children understand the importance of friendship and harmony with their teachers and peers.