Our Before and After-School Program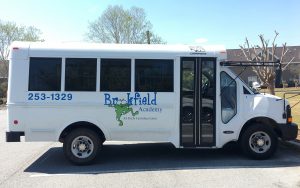 We welcome the Before and After-School kids to an environment with plenty of opportunities to unwind and just enjoy being a kid.  In addition, if needed, we can also give homework assistance! From our large activity room to the spacious outdoor playground, designed especially for the older child, Brookfield Academy meets all the requirements to captivate and satisfy the needs of the school-aged child. Children can be found playing games, challenging each other to a dance off, artwork or doing homework. The BA Club fosters friendships, a fun and safe environment where parents have peace of mind that their children are being looked after. And, the added convenience that they can drop off and pick up all the children in one place.
Transportation to and from area schools is provided by on our licensed, First-Aid/CPR certified drivers. We have two 14 passenger Multi-Function buses. Our buses are equipped with seat belts and many safety procedures are in place to ensure your child's safety and that no child is left unattended on the bus.
Brookfield Academy currently serves the following schools:
Westside Elementary
Sallas Mahone Elementary
Dewar Elementary
Crossroads Baptist School
Open Bible School
Scintilla Charter School
If you do not see your child's school please contact the front desk to see if arrangements can be made.