At Brookfield Academy we want you to have peace of mind that your child is enjoying their day and learning about the seasons, celebrations, holidays, and the arts. Throughout the year we plan a variety of activities, parties and even offer several onsite enrichment classes.
Some of the special events we celebrate include our annual Fairy Tale Ball, Easter Egg Hunt, and Pre-Kindergarten (K4) graduation. Each classroom also holds monthly themed parties throughout the year to foster socialization and creativity.
The enrichment classes are conducted by independent contractors that use our facility, and are available at a nominal monthly charge. We want to help you avoid driving your child to different after school activities, and be able to spend quality time with your child in the evenings. To learn more about these activities please check with your child's classroom.
The onsite activities that are currently being offered at Brookfield Academy are:
Dancing at Daycare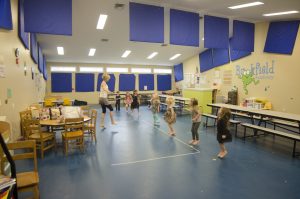 Dancing at Daycare led by Kelly Wilson. The dance program is designed to bring dance instruction to preschool aged children in their daycare facility. The 45-minute ballet lessons offer children exposure to dance and is held weekly at Brookfield. Children will learn the basics of dance, steps and movement patterns which help them grow physically and emotionally.
Kelly Wilson began her career at the age of four and received instruction for 15 years. She studied under Maude Evelyn Murphy and Terrell Paulk in Albany, Georgia and was selected as an Ensemble with Colquitt County Cultural Arts Center as lead. She is in her eighth year of operation.
Ballet and tap lessons are offered for both girls and boys starting at 2.5 years of age and 4 years of age respectively.   An annual student recital will be presented the end of the year in collaboration with the Dance Arts Studio. An additional monthly tuition is required. To sign up check with your child's classroom and to learn more visit Dancing at Daycare on Facebook.
Music Enrichment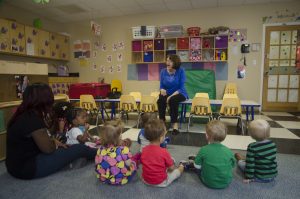 Music Enrichment is taught by certified Kindermusic instructor Karen Van Nus. Mrs. Karen has more than 20 years' experience teaching music.  Music provides many benefits to children and here at Brookfield we want to offer extra time each week for your children to be immersed in music to learn about instruments, signing and social interaction.
Kindermusic  is offered weekly from September through May starting in our 18-24 month Rooms. Additional weekly fee for classes is required. To sign up check with your child's classroom.
Tiny Tots Tumbling Bus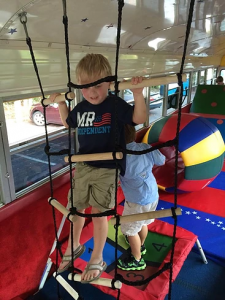 The Tiny Tot Tumbling Bus is a mobile gym that brings fitness, fun and music to your child weekly. The Tumbling Bus is a full size bus that has been converted into a safe gym. The bus is climate controlled with heat and air conditioning. It's filled with balance beams, trampolines, bars, and other fun equipment designed for young children. It is an early childhood movement program set in a non-competitive environment. Children will be brought out to the bus in age appropriate groups to play and tumble in the bus for 30 minutes.
The Tumbling bus comes every Tuesday and is open for children ages 2 – 6 years old. Additional fee is required. To sign up check with your child's classroom and to learn more about Tiny Tots Tumbling Bus visit them at www.tttbus.com.