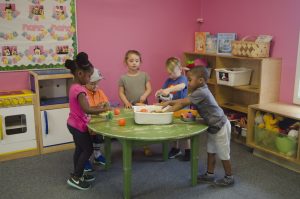 Welcome to Brookfield's Resource Center. We want to provide you with information about our facility, nutrition and calendar. Brookfield is a center where children can grow physically, emotionally, socially and intellectually by playing, exploring, and learning with others in a fun, safe and healthy environment.
Brookfield is a peanut-free zone.
Brookfield is a secure facility.
Brookfield is open Monday – Friday from 6:30 am – 6:00 pm
Nutrition and Menu
Menus include a variety of foods which meet daily nutritional needs and satisfy licensing requirements. When substitutions are necessary, we'll maintain the nutritional content of the overall menu and post updates so you know what's been served. Brookfield cooks food daily onsite and is a peanut-free zone.
Mealtime gives children a chance to try new foods and help with table setting, food serving and cleaning up. We encourage children to sample new foods and taste what's being served; however, we cannot require children to eat or punish them if they choose not to eat all foods served. Please speak administration if you have specific concerns because of:
Religious reasons
Special dietary needs
Allergies or other considerations
View the December 2022 Menu for what is being offered for breakfast, lunch, and afternoon snack.
Calendar of Events
Brookfield Academy is always active with monthly themed activities and events happening daily. Check out our calendar to stay up-to-date.
Newsroom
Check out our newsroom to see information about our programs, past and future events and any other specials or information.